Lingerie Tips + Tricks
Three Simple Steps To The Perfect Fit
The right bra will fit perfectly across three areas – the band, the straps, and the cups
BRA BAND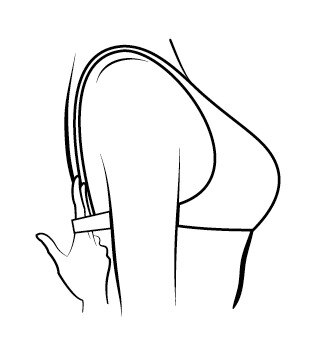 The band at the back should sit horizontally, and shouldn't ride up at the back.
---
BRA STRAPS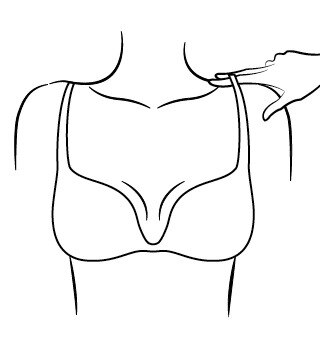 The straps shouldn't be so tight that they leave a mark on your shoulders but they shouldn't slip down either. You should be able to fit two fingers easily between your shoulder and the straps of your bra.
---
BRA CUPS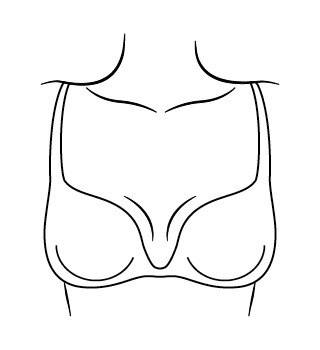 If your bra has underwire, it should sit flat against your ribcage and should not 'dig in' to your chest.
---
SOLUTIONS TO COMMON ISSUES
There are many different ways to tell whether your bra isn't the right fit, but the most important one is comfort. Wearing a bra should never feel uncomfortable.
Signs you are not wearing the correct size bra:

Straps slip down over your shoulders.
The band 'rides up' your back.
Your bust 'spills over' the cups.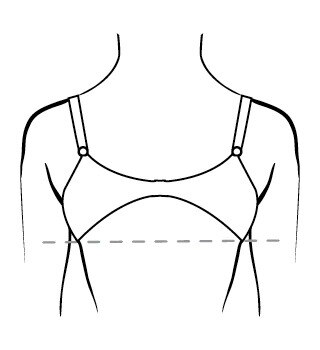 Band Rides Up/Sits too High
Check the straps are not too tight. Decrease band size until it sits horizontally around the body, the back should be the same level as the front in the mirror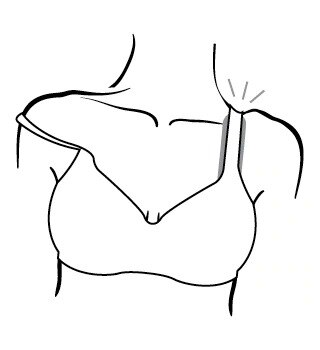 Straps Fall Off
First check straps are firm enough without being tight. Secondly, check band size is not too big, straps may slip if they are too wide on shoulders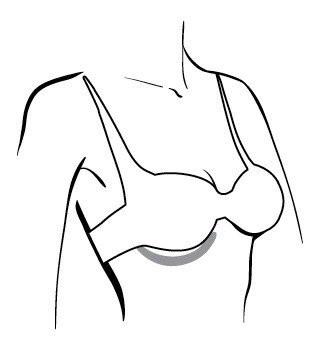 Bust Spilling Over/Under the Cups or Cup Cuts In
If you are spilling over or the cup underwires are cutting in, increase the cup size. Spilling under? Decrease the back size
Underwires Digging In
If cup underwires are digging in, increase cup size until underwires sit flat against the rib cage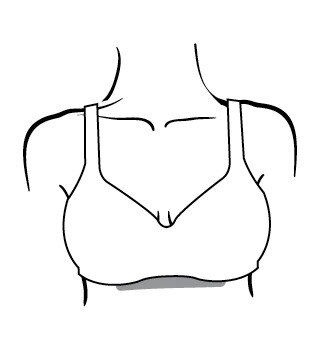 Wires Don't Sit Flat on Chest
If you are gaping at the front, increase cup size, go down in back size or change styles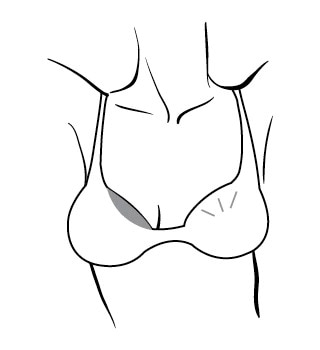 Wrinkled or Gaping Cups
If you have wrinkled or gaping cups, go down a cup size until bust sits smoothly within cup
SISTER SIZING
Did you know that if you fit into one bra size, chances are you'll fit into several other sizes too? Bra size doesn't work the same way as clothing sizes as the band size varies with the size of the cup like a ratio.
If you go up a band size, you'll go down a cup size and similarly, if you go down a band size, you'll go up a cup size.
Here's a simple chart that shows you your sister size – use the colours and numbers to help you match the sizes.
For example if you're a 34A, you could also fit a 32B or 30C
| 30 | 32 | 34 | 36 | 38 | 40 | Example |
| --- | --- | --- | --- | --- | --- | --- |
| A | A | A | A | A | A | |
| B | B | B | B | B | B | A 36D is equivalent to 38C and 34DD |
| C | C | C | C | C | C | A 34DDD is equivalent to 32F and 36DD |
| D | D | D | D | D | D | A 34DDD is equivalent to 32F and 36DD |
| DD | DD | DD | DD | DD | DD | A 40DD is equivalent to 38DDD and 42D |
| DDD | DDD | DDD | DDD | DDD | DDD | A 34DDD is equivalent to 32F and 36DD |
| F | F | F | F | F | F | A 34DDD is equivalent to 32F and 36DD |
| G | G | G | G | G | G | |